---
Adidas, a German shoe brand, whose founders were members of the Nazi party and cooperated with Hitler, who also led the execution of over 6 million Jews, does anything and everything that is commercially advantageous, with no scruples, and right now, that means dropping Kanye West from their advertising platform. Kanye, now known as just "Ye," is absolutely despised by Hollywood and "Woke" corporations, like Adidas, because he has called out the biggest genocidal schemes against Blacks, including referring to Black Lives Matter as a scam and Planned Parenthood as a Holocaust museum for Black babies.
Kanye tweeted out some tough-talk banter with Sean "Puff Diddy" Combs, famous rap producer, about how Kanye felt Combs was being controlled like a puppet by rich New York Jews, and that he was going to go Death-Con on them for it. Of course, he meant nothing literal, but this was an opportunity to drop Kanye and his contract with Adidas, since Kanye is too outspoken when protecting Black people from genocide and global, racial, violent manipulation scams. As consumers and Americans, who pride ourselves on acceptance, we should be denouncing ADIDAS, which was also founded by Nazis.
Twitter restricts Ye's account and Adidas drops his advertising campaign sponsorship for talking slang about Jews
The United States used to be a country about free speech, where comedians went on tours, talk shows, and skit shows (think SNL) and made hilarious fun of all walks of life, all politicians, and even themselves. Now, you get fired for it. Banned from social media and persecuted by the communist CCP/Biden regime in Washington DC.
The Chinese Communist Party runs their country in a similar way, putting people in jail and harvesting their organs on the black market, all for criticizing the government, or for practicing religion, or for going against the 'narrative' on social media. They also use slave labor to produce millions of dollars worth of food and clothing and tech stuff, that's exported for cheap prices to the USA. About 25% of Adidas products are made in China, their "indispensable production base" for the company.
So, we must ask ourselves, why is it that Kanye is being cancelled for saying SOMETHING (not even anything serious or major) about Jewish people, but Adidas is never cancelled for supporting China's totalitarian regime that's steeped in organ harvesting, child labor and political prisoners? The cancel culture in America is in full effect, and the fact that MSM, Corporate America and Hollywood are persecuting Kanye makes it more than just obvious. It's insidious.
Insidious Adidas and Devilish Twitter act offended by Kanye West's remarks about Jews, but it's really about his defense of all Blacks in America
In no way do the biggest corporations in the country really care if Kanye West says something silly or even derogatory about Puff Diddy being controlled by rich Jews. Rappers battle all the time, in songs, on stage, everywhere. That's part of rap and acting like a gangster. It sells records, and clothing lines. Still, Twitter simply won't tolerate Ye talking trash to a fellow rapper, because it's so offensive to their stance on equality and fairness? Maybe Adidas needs to stop getting a fourth of all of their products from a country that STILL has slaves and slave labor forces. Hello?
And Twitter, the tech icon social media platform that censors everything conservative, everything pro-Trump, and everything about the real news, these clowns are calling Kanye racist or bigoted for tweeting out that he's going to go "death con 3 on Jewish People."
Kanye also tweeted out to Combs, "Ima use you as an example to show the Jewish people that told you to call me that no one can threaten or influence me." Maybe Kanye is just talking about a few specific people here. Who's to say this is a general sweeping statement against all Jewish people, or even just practice for some lyrics in an upcoming song or movie?
All the hate-Kanye-forever celebrities jumped on the bandwagon and starting tweeting out all their fake-emotional cries for someone to stop Ye from posting all of these horrible Jew-hating rants! We've heard cries from Reese Witherspoon, Josh Gad, Jaime Lee Curtis, Rob Reiner, John Legend, Meghan McCain, David Schwimmer, and of course, Kim Kardashian. Here's Kanye's response to the propaganda and drama coming from the hypocrites on the Left: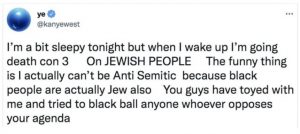 Do your own research and don't use Google. Try the search engine Brave BETA and get more truth news and real information. Bookmark Censored.news to your favorite websites for truth news that's being censored from the rest of media as you read this.
Sources for this article include:
Submit a correction >>