---
Brighteon.com is a popular, independent video platform that features humanitarian free speech videos including those of pioneering women like Dr. Judy Mikovits and Chinese freedom leader Jennifer Zeng.
As part of its war against courageous women who dare to challenge the status quo, Facebook has now blacklisted all links from Brighteon.com and NaturalNews.com following the user posting of a documentary featuring Dr. Mikovits — "Plandemic" — which questions the standard narrative about the coronavirus vaccine and the W.H.O.
Various language versions of the Plandemic documentary were posted by other users, not by the owners or operators of Brighteon.com or NaturalNews.com. Yet because these videos were earning a large number of shares on Brighteon, as well as editorial coverage on Natural News, Facebook chose to blacklist all links from both platforms, regardless of the content, disallowing anyone from sharing any link from Brighteon or NaturalNews.
This means Facebook has blacklisted hundreds of thousands of videos and articles on gardening, smoothie recipes, nutrition, pet care, diabetes prevention, women's reproductive health and other topics that offer extraordinary wisdom and aid for humanity. Because Brighteon is a free speech platform, it also hosts videos on more controversial topics, but this is the nature of a free speech platform. Brighteon.com does not endorse the content of every video on its platform.
We believe that Facebook's efforts to blacklist a competing content platform qualifies as illegal "anti trust" action under U.S. law, and we are asking for your help to demand Facebook remove its blacklisting of competing content platforms. (See action items below.)
Facebook is now dictating what you are allowed to read or even THINK about every subject of controversy
Facebook's blocking of shared content links goes too far. Even when a user chooses to share a link that she finds valuable, Facebook decides that you can't share the links you want to share because Facebook disagrees with the content. This fascist "digital book burning" approach allows Facebook to control every conversation, every debate and every "fact" by disallowing all views with which it disagrees.
In fact, by blacklisting entire websites that feature user-generated content such as videos and articles, Facebook is discriminating against all the users on those sites, regardless of the nature of their content (which varies widely).
Currently, Facebook is disallowing all views that contradict the W.H.O., which is obviously run by communist China, an anti-human rights regime with a long, documented history of organ harvesting, political executions and extreme violations of fundamental human rights. This puts Facebook in the position of protecting one of the most heinous anti-human rights political regimes in the history of human civilization. While courageous American scientists and brave Chinese dissenters are silenced, Facebook catapults the propaganda of communist China to the forefront, calling their lies "facts" while everyone who questions the propaganda is silenced.
Why is this tolerated in America? Why is Facebook even allowed to continue to exist when it demonstrates such disdain for the values of free expression that gave rise to America's greatness?
Not surprisingly, Twitter has also banned our channels in order to prevent us from raising awareness about what appears to be coordinated, illegal censorship among techno-fascist corporations that are obviously protecting communist China and its W.H.O. propaganda institution that repeatedly downplayed the severity of the coronavirus outbreak and pressured the global community to keep air traffic open with China, even as Chinese citizens were spreading the virus around the world.
To defend our right to speak and share honest, humanitarian information that can help save lives and awaken minds, we need your help to voice our protest against Facebook and Twitter using the steps detailed below.
In the mean time, we are encouraging everyone to move over to the new social media network AllSocial.com. Here are the channels we've set up there which are just beginning to gain a following. Ditch Facebook and move to AllSocial.com, which promises to respect all points of view and refrain from politically motivated censorship:
AllSocial.com/brighteon
AllSocial.com/naturalnews
AllSocial.com/healthranger
Here's how you can join our protest against Facebook and Twitter: Follow the steps shown here
If you are a current Facebook user, try to share any link from NaturalNews on Facebook, such as these links:
NaturalNews.com/2020-05-19-trump-coronavirus-vaccine-will-not-be-mandatory.html
Brighteon.com/b616dd2e-de1c-4b1c-a22c-25f1984a58be
When you try to share one of these links, you'll see this message:

Click on "let us know." You will see the following form: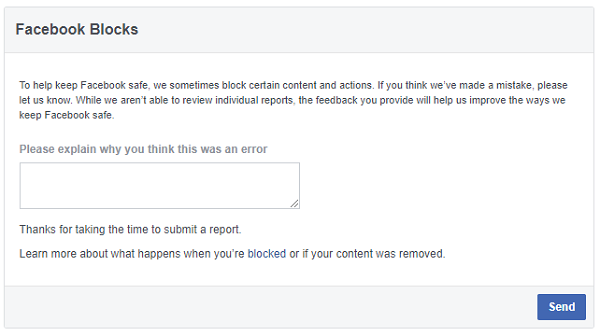 A sample message you might consider posting would be along the lines of this:
I am unable to share links from two of my favorite websites, Brighteon.com and NaturalNews.com. It appears that all links from both sites are currently prohibited by Facebook. I find these sites to offer valuable content, and Brighteon is a minority-owned, woman-owned video platform that features documentaries on pioneering women who fight against oppression and fascism. Please restore my ability to share links from these two sites, thank you.
Click "send" to send your message to Facebook.
Action Item #2: Use the Facebook "ask" form
If the process described above didn't work, you can go directly to a Facebook "ask" form where you can lodge your complaint and request NaturalNews.com and Brighteon.com links be removed from any blacklisting:
Facebook.com/help/contact/571927962827151
At that form, enter a message similar to the example given above:
I am unable to share links from two of my favorite websites, Brighteon.com and NaturalNews.com. It appears that all links from both sites are currently prohibited by Facebook. I find these sites to offer valuable content, and Brighteon is a minority-owned, woman-owned video platform that features documentaries on pioneering women who fight against oppression and fascism. Please restore my ability to share links from these two sites, thank you.
Action Item #3: Tweet Facebook on Twitter and voice your complaint
Facebook can be reached on Twitter at the @Facebook handle. You can tweet Facebook with a short message along the lines of this:
@Facebook Please reinstate my ability to share links from Brighteon.com and NaturalNews.com, as both excellent sites are currently blocked from sharing by Facebook.
While you're on Twitter, complain to Twitter about banning the /healthranger channel. You can tweet @Twitter or @TwitterComms and demand that @HealthRanger be reinstated to help restore my speech so I can join the public debate about vaccines and the coronavirus, among other topics. Thank you for your support.
Action Item #4: Send an email complaint to Facebook support
Facebook can be emailed at [email protected]
When sending an email to Facebook, be polite and offer your existing account name, then explain why you are calling for NaturalNews.com and Brighteon.com to be reinstated as sharable content sites.
You might use an email subject like, "Please stop blocking sharing of Brighteon.com and NaturalNews.com"
Action Item #5: File a complaint with the FTC
The FTC handles anti-trust matters, and it's clear that Facebook's blacklisting of a competing content network hosting third party content is a monopolistic, anti-trust action.
You can file an online complaint with the FTC starting with this link:
FTCcomplaintassistant.gov/GettingStarted?NextQID=192&Url=%23%26panel1-6&SubCategoryID=0#crnt
From there, you answer a series of questions and finalize the complaint.
For this complaint, you did not lose money, but you were deprived of your civil rights to engage in online speech because a social media network (Facebook) engaged in anti-trust, anti-competitive blocking behavior designed to harm a competitor and give Facebook monopoly control over online speech. In addition, there are over 44,000 other users of Brighteon whose civil rights have also been violated by this discriminatory blacklisting of Facebook.
This is the basis for a class-action civil rights complaint against Facebook for its discriminatory policies that act as unfair, monopolistic practices that harm individuals with minority views.
Action Item #6: File a civil rights complaint with the Dept. of Justice
Facebook's discriminatory blacklisting of an entire platform (Brighteon) that is owned by a minority woman is a civil rights violation that also extends to you when you try to share content from Brighteon.
The US Dept. of Justice investigates civil rights violations that are submitted via this form:
https://civilrights.justice.gov/report/
This form allows you to describe the violation of your civil rights, which includes the right to share First Amendment protected content from hosting platforms, especially when those platforms feature women or oppressed minorities who are engaged in protected speech.
Facebook specifically blacklisted Brighteon after various users uploaded content featuring a female science pioneer named Dr. Judy Mikovits, who formerly conducted research for the National Cancer Institute and who expresses dissenting views on the coronavirus pandemic and its possible resolutions.
No tech platform has the right to violate the civil rights of millions of Americans.
Thank you for your help in protecting these important free speech platforms
Your effort to help us protect online free speech is greatly appreciated. With your help, we will maintain this platform as a free public resource for important free speech videos that we believe are crucial for human freedom and prosperity through the current pandemic and beyond.
To share this "take action" article on Facebook or other platforms, you need to share from BANNED.news, which carries this story at the following link:
Banned.news/2020-05-26-facebook-blacklists-free-speech-video-platform.html
If you are able, consider donating funds to Brighteon in our fight against censorship and oppression. The following PayPal donation page will send funds to Brighteon.com. (Note: Brighteon is currently losing money and is subsidized by our product sales to keep Brighteon online. The high popularity of the banned videos has put a tremendous burden on bandwidth costs which we are currently bearing ourselves.)
Click here for the PayPal donation page.
Please also consider contacting your representatives in Washington D.C. and demanding anti-trust investigations into Facebook, Google, Twitter and YouTube. We thank Senators Hawley and Cruz, among others, for their current efforts to hold Big Tech accountable and held create a level playing field for online speech.