---
Once again, a Big Tech platform has moved to punish right-leaning and independent media outlets without warning and without full explanation.
In recent days, PayPal has moved against publishers Consortium News and MintPress News, accusing both of somehow violating the platform's "user agreement," though they have been operating exactly the same way for years.
Both outlets have received some version of the following notice of suspension, which included PayPal informing both it was confiscating any funds in their accounts for at least 180 days.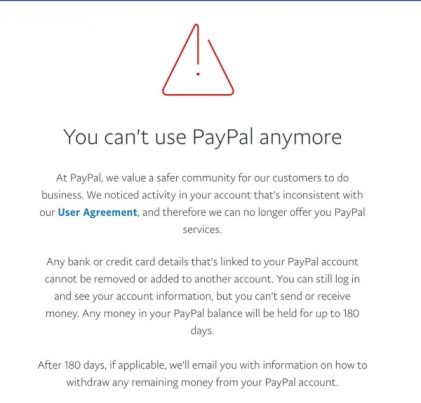 While several suspended outlets on the list could not reach a human being at PayPal, Consortium editor Joe Lauria managed to do so as he sought out details surrounding the platform's actions including the status of the "held" funds that the notice made reference to.
The platform representative informed him that if PayPal made the decision "there was a violation" after a six-month review period, it's possible that the company would simply confiscate the more than $9,300 remaining in the media outlet's account as compensation for "damages."
"A secretive process in which they could award themselves damages, not by a judge or a jury," Lauria noted. "Totally in secret."
A substack report from award-winning investigative reporter Matt Taibbi notes:
Consortium, founded by the late investigative reporter Robert Parry, has been critical of NATO and the Pentagon and a consistent source of skeptical reporting about Russiagate, as well as one of just a few outlets to regularly cover the Julian Assange case with any sympathy for the accused. Ironically, one of the site's primary themes involves exploring disinformation emanating from the intelligence community. The site has had content disrupted by platforms like Facebook before, but now its pockets are being picked in addition.
Similarly, as Natural News has reported, MintPress News has been critical of U.S. foreign policy. In addition to the outlet being kicked off PayPal, so, too, were its founder, CEO and chief editor Mnar Adley and senior staff writer Alan MacLeod.
In the past, big tech platforms have largely stuck to censoring viewpoints and content from independent or conservative media outlets and voices, but PayPal has now introduced something different: Wealth confiscation, a concept that was actually revealed during the recent Canadian trucker protests over mandatory COVID-19 vaccines. Platforms like GoFundMe literally confiscated millions of dollars donated to help sustain drivers who went to the capital of Ottawa to protest the mandate; eventually, the money was returned to donors but only after public pressure was put on the tech funding platform to do so.
"Going after cash is a big jump from simply deleting speech, with a much bigger chilling effect. This is especially true in the alternative media world, where money has long been notoriously tight, and the loss of a few thousand dollars here or there can have a major effect on a site, podcast, or paper," Taibbi wrote.
Adley noted that the current era of 'moderating' content — censorship — by big tech actually began more than a decade ago, as private platforms worked above or below the surface with government entities to identify which accounts ought to be censored. In 2010, PayPal made a then-historic decision to bar donations to Wikileaks after the company received a letter from the Obama State Department claiming that the whistleblower site founded by Julian Assange was conducting illegal operations.
"PayPal banning donations from WikiLeaks really set up the blueprint for today's censorship," Adley says.
As for PayPal's recent actions, Lauria said he thinks the platform is basing its potential claim on his media outlet's funds on a list of restricted activities laid out in the service agreement that bars providing "false, inaccurate or misleading information." But of course, he adds, 'false' and 'misleading' is subjective and can be "what they think is false."
The big tech oligarchs are now moving in unison with the Biden regime, which recently announced the formation of a new 'Ministry of Truth' that will be used to further censor and persecute political enemies.
We are entering very dark times for our country, and it's not going to end pleasantly.
Sources include:
Submit a correction >>